Main Group: Placental Mammals (Carnivores)
Time: Pliocene - Recent Times
Size: up to 12 ft (3.7 m) long
Fossil Finds: Worldwide - depends on species
The genus Panthera generally consists of the "great cats", that is felids with special organs in the throat that produce a roar.

Panthera leo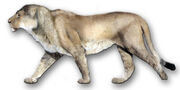 Modern lions are restricted to parts of Africa and the Gir Forest of India. During prehistoric times, lions were one of the most widespread mammals on the planet - living in Europe, Asia, North and South America, as well as Africa. There were many subspecies, including
Panthera leo spelaea
, the
European Cave Lion
, which has been depicted clearly in cave paintings.
Panthera leo atrox
, the
American Lion
, was one of the largest cats that ever lived; roaming the North American countyside. With a wide distribution, lions probably preyed on a variety of creatures, from deer, antelopes, and cattle, to possibly elephants and rhinos.
Ad blocker interference detected!
Wikia is a free-to-use site that makes money from advertising. We have a modified experience for viewers using ad blockers

Wikia is not accessible if you've made further modifications. Remove the custom ad blocker rule(s) and the page will load as expected.